A secure shopping cart worth checking out.
Make it easy for people to find your business online.
Call one of our experts now:
480-624-2500
Looking For The Best URL'S To Buy?
New customers can receive up to 20 percent off website design and SEO services when you purchase the following Deerstone Development products – domain name, hosting plan, SSL certificate, and web security + CDN.

If you're looking to build an online store, then you need a secure shopping cart.
Of course, you've been to a grocery store before, so you've already got the basic concept. But what about an online store? How does the shopping cart analogy play out in a digital space and what does it mean to you if you're looking to start a new business? Well, that's a good question, so let's just ask formally:

What is an online shopping cart, anyway?
If you've ever made an online purchase, then you've used a secure shopping cart before, you just probably didn't know how it worked. Which makes sense; sometimes the world of computers can seem like wizardry without the cool hats. But in essence, an online store shopping cart (also referred to as an eCommerce shopping cart or shopping cart software) does a couple of different things.
It's how your products are displayed.
"Online Shopping cart" as a broad term is often applied to product pages themselves. Go to any online store and as you click through their goods you'll eventually find yourself on a page with a "Buy Now" or "Add to Cart" button that implores you to close the sale.
It's the way shop owners manage, well, everything.
Online stores have a lot of moving parts. They need a way to figure out who is buying what, whether the product is in stock, where it's going, and how much everything costs. A secure online shopping cart does all of that.

It's our code that brings it all together.
An eCommerce shopping cart is just a physical way to represent all of the things that the website can do to facilitate the selling of goods — and it involves a lot of fancy code that you may not understand. Fortunately, you don't have to.

How online shopping carts and websites work together.
Now you've got the basics. If you want to sell something on your own website, then you need some kind of online shopping cart to make the deal happen. How does that work?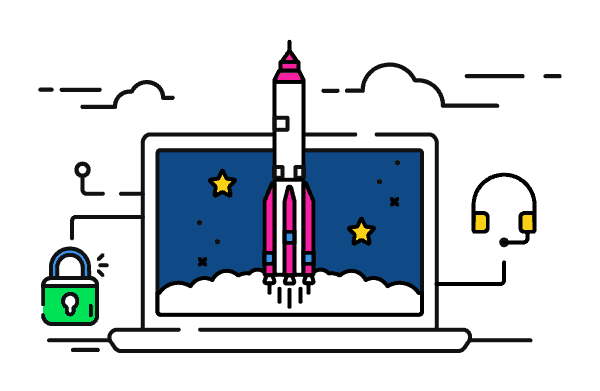 Well, it starts with picking your platform. GoCentral Online Store gives you a complete website and a fully functioning, mobile-friendly shopping cart that lets you do a ton of things. For example:
Add up to 5,000 products
Accept credit cards, Square, PayPal and Apple Pay
Maximize your sales with abandoned cart recovery
Offer coupon codes or other discounts and promotions
Give your customers multiple shipping options to choose from
Lock it all down with industry-standard SSL Security
That may seem like a bunch of complicated pieces to a puzzle, so let's break it all down a bit further.
No SEO knowledge required, just sit back and relax.
Adding and selling products on your website.
GoCentral Online Store's secure shopping cart allows you to add up to 5,000 products to your site. That means that when you build your webpage (which you can get up and running in under an hour), you'll be able to establish pages for each product you sell — up to 5,000 of them. That's a lot of runways for you to build the store of your dreams.
Sell anywhere to anyone on any device.
How often do you use your smartphone? Chances are pretty high that you're on it fairly regularly (and if you're like most people, you probably get anxious if it's not within reach). Why would your store's customers be any different? GoCentral Online Store's secure shopping cart displays perfectly on any device, making it easier for your customers to buy what you're selling no matter what kind of device they're using.
Getting your income to come in.
Credit card processing used to be a complex process involving contracts and working with a bank. Today, it's a lot easier thanks to companies like Stripe, Square and PayPal. GoCentral Online Store's secure shopping cart lets you accept credit cards from all the major banks, plus Apple Pay and the other companies we mentioned. It's so easy you don't even have to think about it.
Don't leave that cart behind.
Let's say a customer visits your store and puts a few different items into their basket. But right as they're about to check out, they get distracted and move away from the page. Now the order is lost, right? Nope. Abandoned cart recovery means that whenever the customer visits your site next their online shopping cart will still be loaded up. And if they entered an email address, GoCentral Online Store will send them a note to encourage them to buy. It's closing the deal for you, and you know what Alec Baldwin says about closers.
Coupon clippers welcome.
Know what drives sales? Sales. And online, that means coupon codes. Having a secure shopping cart that generates them means you can have all sorts of promotions for whatever occasion you want. Labor Day, Arbor Day or just Tuesday.
Ship it. All of it.
Everybody has their own shipping preferences. Maybe you want your stuff tomorrow via UPS. Maybe you're in no rush and get a weird thrill from checking the mailbox every day (no judgment). GoCentral Website Builder has enough options to make everyone happy.
Keep you and your customers safe with an SSL.
Online security is a big deal to both you and your customers. The solution? SSL, and it's baked right into GoCentral Online Store. Your new web store will include that little green lock that shows your customers that everything they put into your secure shopping cart are safe and sound.
Alright, so by now you've got the idea down pat. An online shopping cart is what makes your store a store. It allows you to manage your products, sell them to customers and ship them out the door. It's a term that encompasses pretty much everything that your online store can do. Easy, right?
Well now that you have all this info, what are you going to do with it?
It's the best way to sell your goods online.
Accept all major credit cards, plus PayPal and Apple Pay.

Make the sale with a SALE!
Offer discounts and promotions to your customers to help bring them in and seal the deal.

Manage products, inventory, and orders through a convenient dashboard.

Thanks to abandoned cart recovery, your customers will never leave empty-handed.